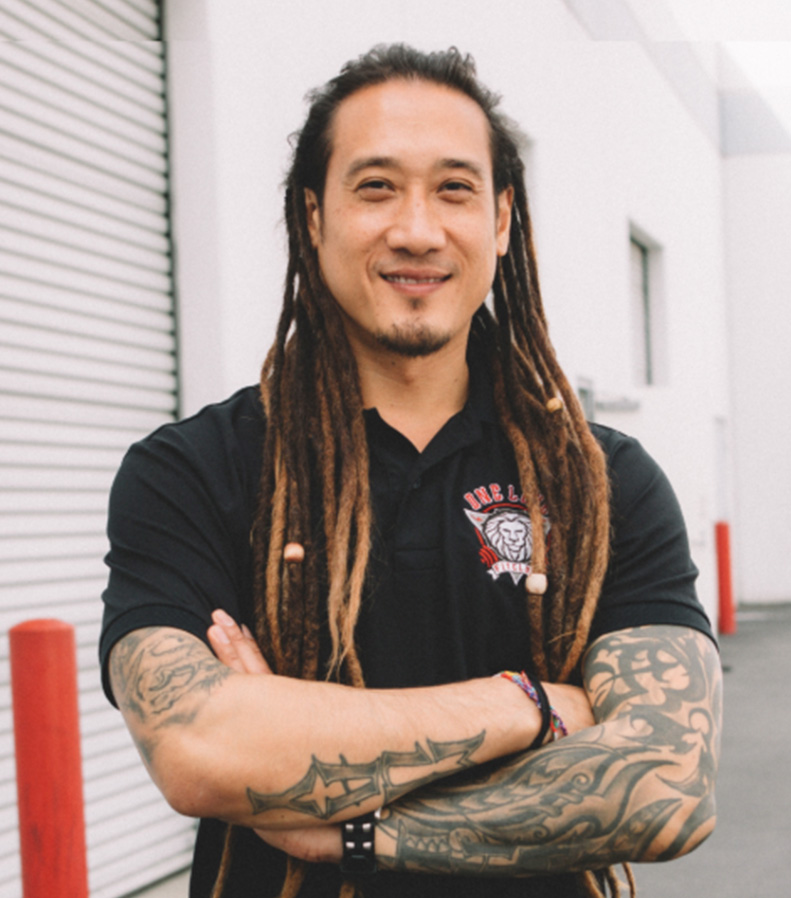 YOUR TRANSFORMATION IS MY PASSION!

My name is Nray Lavitrungsima, and I'm not here to sell you miracles or make you any ridiculous promises. I'm here to help you get started with a proven fitness program, developed over the course of 18 years and more than 2,500 hours of direct personal training experience.
There's no substitute for training, experience and dedication, and at One Love Fit Club, you'll benefit from the hard work we've already put in.
Your personal training program will be built entirely on you and your body, your needs, and your goals. You'll be held accountable for your workouts, but you'll never be judged or made to feel like you aren't trying. Losing weight can take time but we'll motivate you until you've reached your goals! With direct small group personal training, as well as kickboxing classes, you'll benefit from direct support, assistance and instruction. Most importantly, you'll gain new skills while burning fat and losing weight. Get started with One Love Fit Club today and you'll be one step closer to achieving your fitness and weight loss goals.
#1 BODY FAT BURNING
KICKBOXING PROGRAM

The Value of Our Gym

WEIGHT LOSS
Kickboxing is an incredibly effective workout. It engages your whole body, melting hundreds of calories per hour.

STRENGTH
Kickboxers gain muscle mass and have lower percentages of body fat. Plus, it improves your coordination and balance.

ENDURANCE
Every session combines cardio with a full-body workout. Not only will you get stronger, you'll also be able to go longer too!

SELF DEFENSE
Learn to protect your most valuable asset – yourself. We'll teach how to do these moves safely and what to do should you need them.
3 Personal Training Kickboxing Sessions for $39
Benefits of Our Program Include:
Functional Fitness
Weight Loss
Cardio & Muscular Endurance
Burn up to 500+ Calories per class
Build Strength
Balance & Coordination
Improve Mobility & Tight Joints
All Levels welcomed
We work you out at "YOUR PACE"
ONE LOVE FREQUENTLY ASKED QUESTIONS

I am interested in your program, how do I get started?
Sure, normally people get started by doing our "Intro Special" of 5 classes for $30 and you get a free pair of high quality gloves. This gives you a chance to try out our class, meet our instructors, see if you like our facility and after your first class we can go over pricing details if you are interested in continuing.
What is your class schedule?
–  Monday  @ 9am, 5pm, 6pm, 7pm
–  Tuesday  @ 6am, 9am, 5pm, 6pm, 7pm
–  Wednesday @ 9am, 5pm, 6pm, 7pm
–  Thursday  @ 6am, 9am, 5pm, 6pm, 7pm
–  Friday @ 9am
–  Saturday @ 8am, 9am
–  Sunday  No class
I bought a Groupon/signed up online, how do I set up my first class?
– Choose which class you would like to come to for your first class, then just call/text/email us to set up your first class. You can also book your appointment here.
– Please just show up 15 minutes before class to go over all new student information and a brief tour and paperwork. Please bring your Groupon voucher (on your phone is fine). Wear comfortable workout clothes and bring a towel; we have water for you.
How much are your classes (after the INTRO SPECIAL)?
– We have many different prices and specials going on all the time, so we usually go over the pricing and program details after you take your first class.
I saw you guys on Groupon, do I have to purchase through them?
– No, you can come into our facility and purchase the Groupon deal in store, you do not have to go through them to purchase. We have the 5-class deal for $29.99 with a free pair of high quality gloves.
I've never done anything like this before, I'm really uncoordinated and out of shape, will I be ok to take this class?
– Absolutely! We get beginners almost every single class. We set the classes so that any brand new person with no fitness or athletic background is able to take any one of our classes.
– The majority of our students ARE female, so it's not like a "fighter's gym" where there's a room full of guys fighting each other. So you can totally feel comfortable, not intimidated, and our instructors are always there to help and guide you.
– For your first classes, we always recommend going slow, catching your breath, and stopping if you have to, until you start getting used to the workouts.
Do you guys do PERSONAL TRAINING, or just kickboxing?
– Yes, we definitely do personal training as well. Actually. that's our specialty along with our kickboxing program.
– What we usually do for personal training is set up a first FREE 20/30 minute workout/fitness assessment. Here, we will go over all your goals and individual needs and the different prices and programs that we have.
– All you have to do is let us know what days and times might work best for you to come in for your first free workout and we will have one of our trainers contact you within the next 24 hours to set up your first appointment.
STILL HAVE QUESTIONS?


MORE THAN RESULTS UNCONDITIONAL GUARANTEE!
We are so confident that you will love your training experience, see amazing results, feel better, and feel right at home, we're removing all worry and doubt by offering you a 30-day FULL MONEY BACK guarantee. Give us a chance by committing fully to our program as directed by your personal coach for 30 days. If, after following our program as designed for the first 30 days, you feel you have not experienced results, or that our program will not get you to your goal, we will happily refund your money.