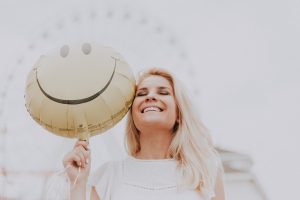 At One Love Fit Club in Chino Hills, CA, you see a lot of happy faces leave the gym. That's because they feel good after a tough workout. In fact, kickboxing workouts for depression are particularly effective. You get the great feeling of stress release by kicking and punching your way through the workout and the lift that comes from the endorphin release. Those chemicals not only increase the body temperature, that causes it to relax, but it burns off stress hormones, while releasing feel good hormones that boost your mood and ease the symptoms of depression.
You need vigorous enough exercise to break a sweat.
Aerobic exercise gets your body moving and boosts circulation. In fact, studies show that aerobic workouts actually provide the best depression-fighting type of exercise. You don't have to be extremely intense, just get moving. However, the more intense the workout, which causes your body to work and you to sweat, can boost the production of the feel good hormones, endorphins. Endorphins are the body's way to deal with pain and a natural morphine. They also create a sense of well-being, necessary for fighting depression. Running can be a good depression-fighting tool and of course, so can kickboxing.
Strength training also works in specific cases.
While aerobic workouts have always been used to fight depression, a recent study found that a ten week strength training program could help, too. The results of the study of 45 stroke survivors who also had depression showed a marked improvement. The consensus was that the mastery and control brought from working out to build strength and the focused concentration improved their sense of control to help lift the stroke victims' spirits.
If you don't like to run, how about a brisk walk?
It can't be repeated enough. Just move!!! If you're feeling down in the dumps or suffer from depression, take a walk and see if you don't feel better. A brisk walk can improve circulation, can be done by almost anyone and all it takes is a good pair of comfortable walking shoes. If it's cold outside, take a tip from seniors and walk in the mall. Don't try to break any records at first, gradually add to your distance and walking time. Make the walk even more enjoyable and get out in nature. There are theories that walking on grass barefoot, called grounding, can also boost your spirits.
If you're stuck in the house and can't get out, try walking up and down the stairs. If you don't have stairs, create a path and pace fast through the house or do a few jumping jacks or other calisthenics.
Tai chi is good for depression. The slow movements of tai chi can be done by beginners no matter how out of shape you are. They're tougher than they look and can really make you sweat.
One study divided 65 women with anxiety and depression into two groups. One group took yoga and the other didn't. The group that took yoga showed a marked improvement. It may be the quieting of the mind that helped.
If you choose exercise to help you with depression, make it something you enjoy, so you won't feel like it's punishment. Enjoyment is one reason many people come to One Love Fit Club for kickboxing.
For more information, contact us today at One Love Fit Club