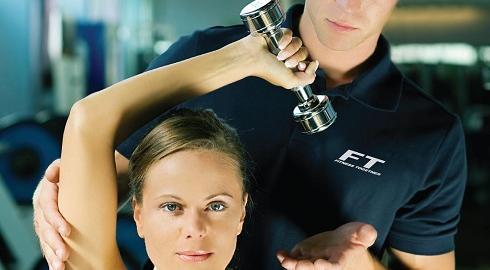 Finding a fitness expert can be daunting, but if you want the fastest results achieved in the safest manner, you need to do it. A fitness expert doesn't do one size fits all type of workouts, but instead makes a personalized plan for each client. Before the sessions even begins, the trainer assesses each person's level of fitness and learns their personal goals and special needs. The trainer tests the level of all types of fitness from strength and endurance to flexibility and balance to make sure no area is neglected.
Find a fitness expert, such as a personal trainer, who keeps you motivated.
If you dread working out each session, it won't take long before you'll find all types of excuses for quitting. That's why choosing a trainer that keeps you motivated is important. While some motivation can come from the trainer's encouragement and support, the workout has to be interesting and keep you focused. That's one reason I include kickboxing as part of the training. It keeps your mind focused and is a great deal of fun. It also is a fantastic workout you'll look forward to doing.
Your fitness expert should track your progress and adjust for your improvement.
Your abilities will be quite different after a few months than they are the first day. That's why a good personal trainer constantly tracks your improvement and as your fitness level increases, adjusts the workout to reflect that improvement. You'll always be working your hardest so you'll get the fastest possible results. If you workout without a trainer or fitness expert, adjusting the level of difficulty is a step often missed.
The trainer should constantly adjust the workout to prevent plateauing.
Plateauing occurs when your body becomes efficient at doing a specific exercise. Efficiency sounds good, but when it comes to weight loss, it's not. It means the body burns fewer calories, slowing your weight loss. Varying the exercise prevents that from happening, so you'll always be burning maximum calories. Kickboxing has so many potential moves that your body never has a chance to get into a routine, so it's a great addition to a program to prevent plateauing.
When you use kickboxing as part of your workout, you not only workout the body, you workout the brain. While all exercise improves cognitive thinking, kickboxing does it on several levels.
You'll get more for your money with some training. For instance, by adding kickboxing to your workout, you'll learn a self-defense skill, too.
With the right trainer, it doesn't take long before you see results. Results are powerful motivators.
Having fun is an important part of your workout program. It keeps you looking forward to each session.