Finding it hard to stay away from the alcohol this summer?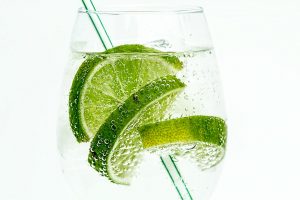 Summer is here guys! That means Summer BBQ's, weddings, parties, and other social events, which means….alcohol! Alcohol is a big factor in trying to stay on our fitness goals. Yes, they're just drinks, but alcohol converts into sugar and sugar into fat! Let alone the mixers and sodas mixed in the drinks as well or beer which also has about 154 calories per can.
Here is a list of some low-calorie drinks that you can substitute for those high calorie sugary drinks. 
          1) Vodka, Soda water, Limes
          2) Mojito-rum, Mint, Limes, Soda water, Stevia (instead of syrup)
          3) Champagne (less calories than beer and wine)
          4) Sangria with fresh fruit
          5) Gin, Tonic (or diet), Lemons
          6) Vodka, Diet Ginger Ale
OF COURSE, if you can stay away from alcohol altogether when on your fitness goals, that would be best. But if drinking is not easily avoidable, try these drinks for your substitutions for beer and other sugary drinks! Enjoy!
If you are interested in setting up your first FREE Personal Training Consultation to evaluate your current level of fitness and health, please fill out the form below: