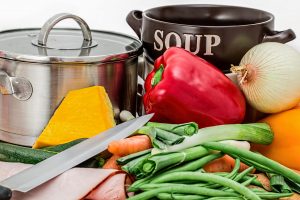 I emphasize at One Love Fit Club in Chino Hills, CA, that what you eat is just as important as working out. That's one reason I also suggest people plan and cook meals ahead on the weekend for quick preparation during the week. It saves money, ultimately saves time, is quicker than a drive through—just heat and serve—and gives you healthy alternatives to junk food, while also aiding in weight loss. I'm providing tips and recipes for meal prepping on a budget to help everyone get the healthiest meals that are low cost, yet nutritious.
Save with a meatless Monday.
One of the biggest drags on the budget for most people is animal protein. If you want to save money, consider one or two days of vegetarian meals. No one plant source has a complete protein profile, but you can combine them to create a delicious meal that has all the amino acids necessary. Combining nuts and seeds with whole grains is one way. Think peanut butter on whole wheat toast for this. Beans and rice, a favorite dish of many, combines whole grains with beans for a complete protein. Just add sides of frozen or canned vegetables and/or salad and you have a budget friendly meal.
When you bake or boil meat or poultry, make a lot and let nothing go to waste.
To save time and effort, make meat or poultry in bulk, not just for one week's worth of menus. You can freeze the extra cooked meat or poultry and use it in menus later. Create several recipes both baked and boiled from one type of animal protein. For those boiling chicken or beef, save the liquid for soup. Just add frozen vegetables, rice, potatoes, herbs and spices and you have a nutritious soup. All you need is whole grain crackers or bread and a salad. Shred the meat or poultry and add taco spices for a taco salad.
Make one pan Italian veggies and chicken.
Here's a recipe that serves four with a calorie count of under 600 calories. You'll need a pound and a quarter of chicken breasts or tender for this one. Marinate chicken breasts in a bag in the refrigerator with a third cup of a mixture of 1/3 cup of balsamic vinegar and ½ cup Italian dressing for an hour. Cut into bite size pieces. Combine with leftover fresh vegetables such as broccoli, carrots and tomatoes from the previous week or fresh cut ones, 3 tablespoons olive oil, 1 tsp. dried Italian seasoning and a bit of garlic powder. Bake at 400 degrees for 15 minutes, turn, brush with half the remaining dressing mixture, and bake another 15 minutes. Drizzle with remaining Italian dressing mixture and serve.
Bowls make a delicious lunch or dinner. Brown rice bowls topped with leftover chickpeas, spinach and sweet potatoes or spicy shredded beef on a salad are examples.
Use leftover meat and poultry to make a delicious salad. The marinated Italian Chicken from above would top your favorite greens and you won't need extra dressing.
Whether freezing precooked meat or poultry or precooked vegetables, lay them out on a tray in the freezer until frozen. Then package. It allows you to take measured amounts out, not one big clump.
When selecting menus for a budget, to get the most nutrition for your dollar, look for ones that include brown rice, beans, green vegetables, low sodium canned vegetables, frozen vegetables and peanut butter.
For more information, contact us today at One Love Fit Club