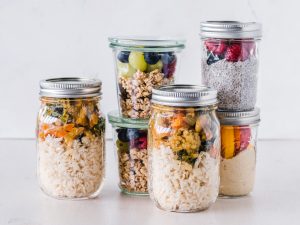 I love watching clients have fun when they kickbox for their workout at One Love Fit Club in Chino Hills, CA. I also know that they're helping their body every time they do, but also know that it takes more than just working out to be your fittest. It takes eating nutritious foods, too. Life is busy and it's often easier to go through a drive through on the way home, but those types of food don't build your body or improve your chances of getting fit. If your life is already hectic, and whose isn't, here are some healthy meals for a busy life.
Plan ahead and use the leftovers.
You don't have to cook a big meal every day. Just planning ahead can make a difference. Toss a chicken in the air fryer, oven, Instant Pot and season it with your favorite herbs and spices. Use the chicken to top a salad, a power bowl using leftovers or main dish. If you use an electric pressure cooker, you can cook two pounds of chicken in 12 minutes, 20 minutes if it's frozen. Make Teriyaki chicken by adding green onions, 2/3 cup low sodium teriyaki sauce, 1Tbsp honey and a fourth cup chicken broth.
Chop up vegetables and store them for those quick meals, and use leftovers.
Let's face it, half the battle preparing a meal is chopping the vegetables. Once they're ready, they make the perfect quick snack, especially if you have healthy dip in the fridge. You'll have them ready for a salad, to add to soup or to steam as a side dish. Toss thinly sliced or chopped leftover veggies in a freezer bag with small cubes of chicken or shrimp. Add your favorite marinade and freeze. Saute in a skillet or bake for 15-20 minutes when you're ready to eat this no prep meal.
Make rice or quinoa for several meals.
Make up a double or triple batch of rice or quinoa, depending on how much you like it. Use it one day in a salad with some of the extra vegetables like cucumber, spinach, red onion and avocado with a homemade dressing. The leftovers can stuff a pepper or tomato with Parmesan or other cheese, peas, and a little seasoning. Bake at 350 for 20 minutes. (HINT: Put tomatoes in muffin tins, so they hold their shape.) Combine rice with a can of stewed tomatoes, a can of beans and onions for a quick beans and rice main dish.
Make your own healthy teriyaki sauce with a cup of water, ¼ cup soy sauce, 1.4 cup honey, one minced garlic clove, ½ tsp ginger root grated and a mixture of 2 tablespoons cornstarch mixed in 1/4 cup water. Bring all the ingredients but the cornstarch mixture to a boil, add the cornstarch mixture and continue to boil 7-10 minutes, stirring it constantly
Make a healthy dressing ahead that takes just a minute. Combine ½ C balsamic vinegar, ½ C extra virgin olive oil, a teaspoon garlic powder, 1 tsp salt, ¼ teaspoon black pepper and 1 tablespoon honey jar, then put on the lid and shake.
Always cook double the meat you're going to use for one meal or even more. You can shred it, cube it or freeze single portions for meals later, cutting kitchen time in half.
Get creative. If you buy burrito shells for one night, use them another night as part of a meal. They make a great salad wrap and even delicious grilled cheese. Heat on one side, flip it over. Sprinkle cheese on half, fold the shell in half and then quarter it. Serve with soup or salad.
For more information, contact us today at One Love Fit Club